I tell myself I will be more active every year in the fall. It's the season in Southern California that we often get the most sunshine and sometimes even heat. But once the sun sets and the temperatures drop, I get outside and become more active.
At least, that's what I've been telling myself I will do. And, because I have a very active puppy this year, it's even more of a reason to get outside so I can get her outside.
If you've set a similar goal, this post is for you. I recognize that Lululemon's pieces are not the most budget-friendly. For me, I shop at Lululemon very sparingly. And when I do, I look for versatile pieces.
Though I will admit, their align-legging is incomparable to any other leggings I've bought. They are my go-to for yoga leggings because of how soft they are.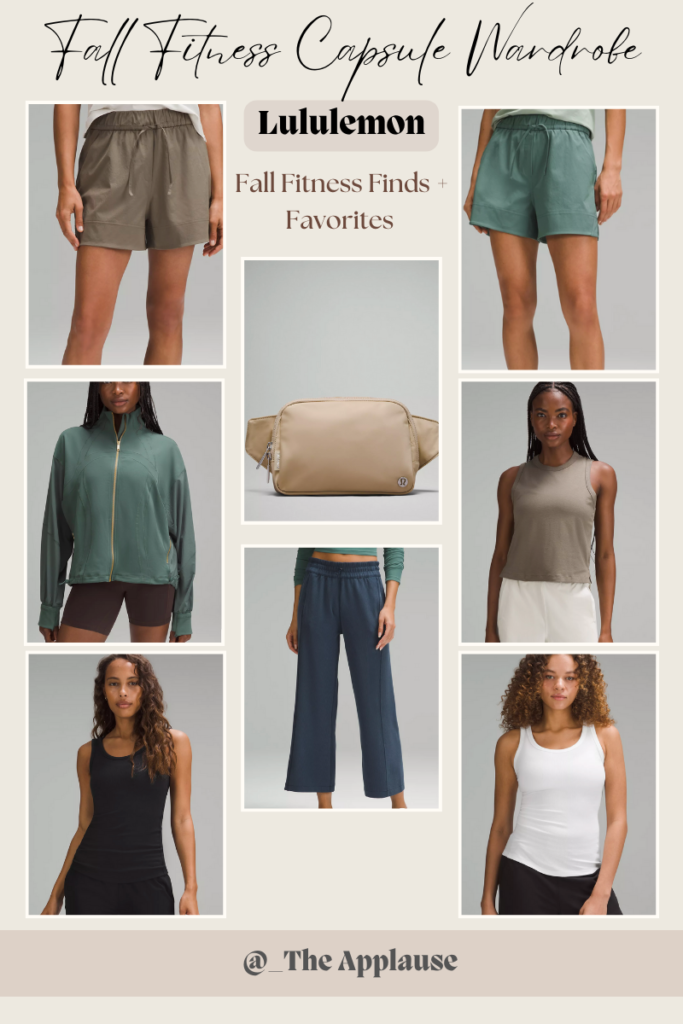 In Southern California, September and October are our warmest months. Temperatures can reach well into the 90s. But, once the sun sets and temperatures drop, my evening walks become routine.
That's what inspired this style guide. It's dedicated to those of you, like me, who want accessible, breezy pieces that you can wear on warm days running errands and on slightly cooler nights, going on your evening neighborhood or beach walk.
I first bought these shorts in the Nomad (tan) color and loved how they fit so much that I had to get them in another color. I was torn between Black, graphite Grey, and medium Forest (green) and settled on the latter. I couldn't resist the beautiful green hue in the medium green. And, in my wardrobe's sea of neutral tones, I like to spring in some fun colors.
These shorts are lightweight, form-fitting, and well-tai red. I ordered my usual size, Extra Small (XS), and they felt just right. The waist was loose enough without the shorts feeling baggy.
Finish the look with the Everywhere Belt Bag Large 2L; I like the color Trench (tan/gold) I included and featured in the style guide.
Shop the Shorts

I included this jacket in the guide because I love that it's elevated with the brass hardware in the brass zipper. I especially love the dark Forest color for its elegant green hue while also adding a hint of flare. The jacket in black is classic and edgy. The Pitch Blue color is cool, calm, and collected and looks more like your typical workout jacket, but you can't go wrong with the soft jacket.
You can't go wrong with any of the colors in this jacket. Ultimately, you'll be basking in the soft fabric of a relaxed-fit jacket that will take you from the gym to your afternoon coffee and evening walks, all in style.
Style it with Lululemon Align (TM) Ribbed High-Rise Pant in Dark Forest for a chic monochromatic athleisure look.
Shop the Jackets

This tank top is so soft. As soon as I picked up off the hanger to put it on, I knew it would be a wardrobe staple. It is a tank top that can be worn with leggings or the Lululemon Ribbed Softstreme Mid-Rise Wide-Legged Pant. I love this look because you can quickly go from the gym to lunch or run errands.
The fabric of this tank top is light and breathable, which makes it perfect for wearing with shorts, lightweight pants, or leggings.
In Lululemon tops, I wear a size two or a size four. I opted for the size 4 for a slightly looser fit, and I am glad I did. Because I have a long torso, the looser fit allows me to style this with leggings or tucked into the Cinchable Waist High Rise Wove shorts or the Stretch Woven Relaxed-Fit High-Rise Short 4″. Both shorts look effortlessly chic and comfortable when styled with your favorite sneakers or chunky buckle sandals. My two picks would be the New Balance 327 or the Birkenstock Milano Exquisite Chunky Sandals.
Shop the Shoes

This tank top is equally as soft as the Hold Tight Scoop Neck tank but with a looser fit, I like that I can style it when I'm feeling a more sporty look. When I bought this tank top, I had a vision for wearing it with the Cinchable Waist High-Rise short and the Wunder Train Strappy Racer Bra *Light Support, A/B Cup, and both did not disappoint. The Wunder Train Strappy Race Bra is the perfect addition to the boxier shape of the Classic Fit Cotton Blend Tank.
The tank top is a lighter fabric, especially the white Cotton Blend tank, it is a bit see-through, so you want a bra that provides coverage but allows you to feel comfortable. The Wunder Train Strappy Race Bra is sporty enough to pair well with the sporty style of the tank top without looking too much like a sports bra.
Shop the Tank Tops

This belt bag comes in a range of sizes and styles. The name of this bag truly matches its functionality and versatility. The Trench (gold/tan) color is elevated while being effortless.
While researching for this post, I came across the new style of the Everywhere Belt Bag 1L that comes with the teddy-bear-style fabric. Both styles come in multiple colors, are spacious, and are great for your gym, hiking trail, yoga, or grocery store trips.
Shop the Bags

---
I love these pieces' versatility and ability to be layered, mixed-and-matched. Whether you're in a place with warm temperatures creeping into the fall months or they start dropping, this style guide is set up for every activity your day brings.
Shop the Post