When I think of spring, I think of lighter layers, fewer boots, and a slightly more relaxed finish to my look. Of course, the temperatures have a lingering hint of chill, so a cozy jacket and some jeans are still in the mix, but I like that I can opt for a sneaker and my favorite short sleeve t-shirt.
While we are still in winter, I'm taking inspiration from the available pieces, buying up some of them while they are on sale, and making a list of those I plan to get–come the warmer months.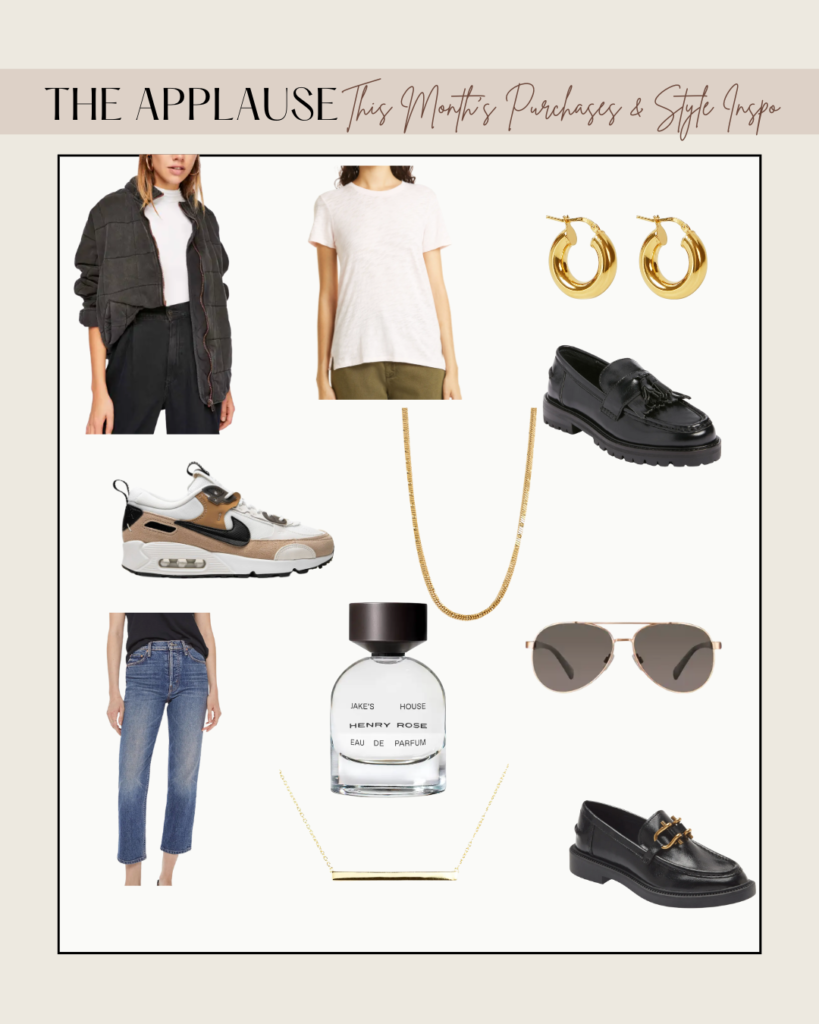 This year, I've been focusing on versatility; in all aspects of my life. Starting with fashion, I am assessing how I can buy essential pieces in color and pattern but with a hint of style to elevate my look. This may look like pairing a t-shirt in a neutral color with blue jeans, but adding a relaxed fit jacket in a soft blue or black color and finishing it off with some fun printed shoes–such as a sneaker, ballet flat, or loafer.
Over the past two years, I've also invested in more jewelry. Not expensive jewelry, but budget-friendly pieces that will elevate a simple look. If you're familiar with my style, you'll notice that my wardrobe is pretty much made up of jeans, a t-shirt, a sneaker, ankle boots, or other shoes–in some variation. Where I don't take risks in my clothing, I'll make up for it in my shoes and accessories–usually in the form of jewelry or a fun pair of sunglasses.
In this style guide I've compiled my list of pieces that are versatile enough to wear through spring into summer and wear from my desk during the week to brunch, lunch or dinner on the weekend. Which piece is your favorite?
Layers
The Free People, We the Free Dolman Quilted Jacket is perfect for wearing during cool days in the office and it transitions perfectly into the weekend. Style it with a pair of jeans and loafers during the week and leggings and snearks on the weekend for those days filled with a long to-do list, or no list at all and lounging at home. Either way, you're guaranteed to reach for this jack all year long–weather permitting.
Shop Layers

Shoes
The Nike Air Max 90 Futura Sneakers are the perfect compliment to a simple style. When it comes to shoes, there is one style that takes up the most space in my closet–sneakers. I love my occasional heel for a date night and a heeled ankle boot for a winter evening, but the sneaker wins my heart every other day of the week.
While getting dressed up is in my DNA, as I've gotten older and focused more on listening to my body's messages when something doesn't feel or right–I've started to prioritize simply put, being comfortable.
In addition to creating a wardrobe more suited for comfort I am also curating my wardrobe to be more versatile–which means more neutral tones. That looks like opting for more tan, sand, beige, black, brown, gray and white tones. You may be thinking, that sounds like a very plain wardrobe. I won't argue with you, those colors can paint a very gloomy picture, but when creating a timeless, minimal wardrobe that serves as the foundation for other fun, more risky prints, a neutral palette is the way to go.
Shop Shoes

Basics (Tees)
As you may notice by now, fashion is my love language and basic t-shirts are the soul. They are fundamental to any capsule, minimal or timeless wardrobe. Almost any occasion can be styled with the right t-shirt. Style it tucked into a black silk skirt and heels and a blazer and you have a beautiful evening look. Or, style it with jeans and heels and you have a chic and versatile desk to dinner ensemble.
However you wear it, the basic tee is always a winner. I have multiple basic t-shirts in my closet, but the one that I reach for the most is the Anthony Thomas Melillo Schoolboy Crew Tee in black. I style this t-shirt with every color of denim jeans in my wardrobe–from super light wash in the summer or black in the winter and in the evening. It is a shirt delivers on versatility and comfort.
Shop Basics

Accessories
There is something magical about the way a necklace or pair of earrings, or a bracelet and ring can transform the simplest of outfits. When I say magic, I am referring to how a gold necklace elevates my leggings or jeans and black t-shirt look into a classy and chic ensemble. Once I discovered how to layer my jewelry, I was introduced to a corner of my wardrobe I had never explored before.
There are a few brands that I look to for their timeless and classic jewelry. They have the "wardrobe staple" equivalent of jewelry. For example, the Electric Picks Hudson Necklace can be worn on its own or when paired with a more simple and dainty necklace like the Electric Picks Bardot Chocker and Argento Vivo Bar Pendant Necklace, you have a tri-stacked necklace layer that achieves a classic, yet elevated look that can be worn wherever the day takes you.
Shop Accessories

Fragrances
I love a well-made fragrance, but I don't love the mysterious ingredients that often come with them, so when I discovered the Henry Rose 100% transparent fine fragrances I felt like I had met my fragrance match. To be exact, I combine the Henry Rose Windows Down, which received the 2021 Allure Best of Beauty award, with the Henry Rose Flora Carnivora. Both scents compliment one another like a finely orchestrated song. I especially love how the Flora Carnivora brings out the floral undertones of Windows Down, and in return, the Flora Carnivora's citrus, neroli, and musk undertones are brought out by Windows Down.
Ever since my stint working for a vegan, non-toxic and cruelty-free beauty brand I've become more conscious of the ingredients that go into the beauty products I wear. I'm not a chemist so I don't know how to fully decifer what constitute toxic and what is acceptable, which is why I rely heavily on brands like Henry Rose to be transparent about the types of ingredients they incorporate into their fragrance formulas.
The science aside, the fragrances are exquisite. Something that I am especially fond of with the Henry Rose brand of fragrances is that they encourage fragrance layering. So, similarly to layering necklaces to complete a look, the fragrances created by Henry Rose are made up of a variety of soft, warm, earthy, citrus, floral, and many other scent notes that can be combined to make a scent as individual as the person wearing it.
Shop Fragrance

I hope this list serves as a guide for you and perhaps even inspires you to revisit that t-shirt or pair of jeans or sneakers that's been hanging out in the back of your closet. Fashion is fun, so I encourage you to play around with it. Are there two pieces that you think may not go together? Well, try them on, you may be surprised.
You've got great style!