We're only a few days into spring, and I'm already feeling behind. I'm sharing this post with you about a week later than I would have liked, but I can't help in feeling proud of the styles and pieces I've found and put together for you.
Spring, to me, means the turning of a new leaf. Winter in southern California has come steadfast and stern. The cold temperatures and consecutive days of rain have kept me inside with cabin fever. Now that we've entered the Spring equinox, I look forward to exploring outside and feeling warm sunlight, even if for brief moments throughout the day.
As soon as retailers publish their spring edits, I start my browsing. So, this collection of styles is the product of months of searching for individual styles that will fit multiple occasions. Collectively, they encapsulate a complete wardrobe, which includes a beautiful floral dress, a linen midi skirt, a couple of soft sweaters, a pair of jeans, and some fantastic shoes to take you from your desk to dinner.
The Floral Dress Staples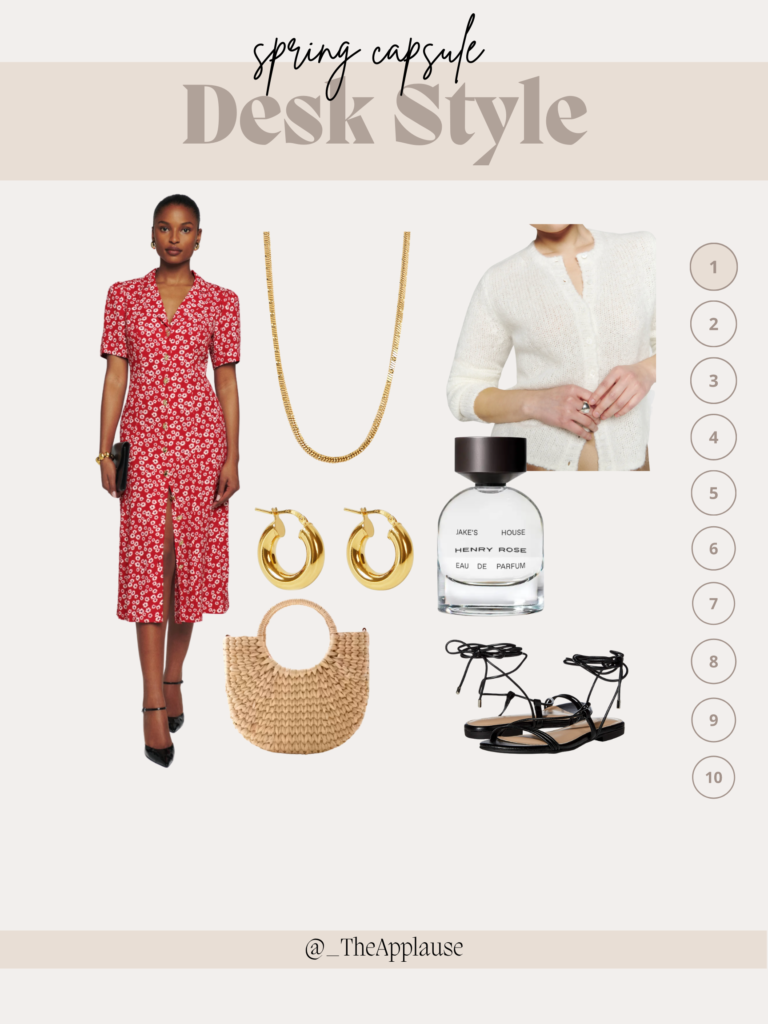 This dress is so beautifully cut and designed. What makes it so perfect for a day in the office to a night out is the v-neckline and the short sleeves. The top half of the dress resembles a collared top, perfect for the office. In the evening, it doubles as a bold, yet slightly flirty dress for a fun night out with friends or an evening with colleagues–when the work continues past 5 pm.
Reformation has had a couple of cardigans that I've recently bought and loved, and the Clara is no exception; it's one that I will be adding to my collection next. I've been so impressed by the two Reformation cardigans I currently have; the Fantino Cashmere Collared Cardigan and the Benny Cashmere Collared Cardigan are both so soft. So, I have no doubt that the Clara Crew will be equally soft. I would buy just about every cardigan in their collection of cardigans if I could.
The Black Midi Dress Staples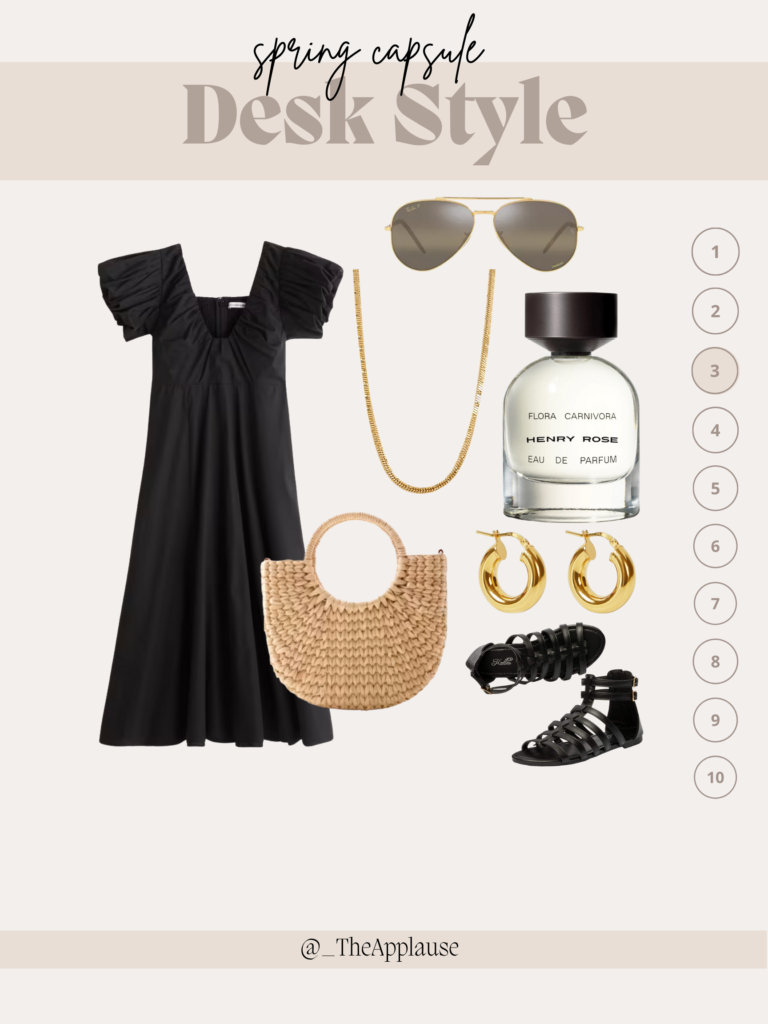 The first day I saw this dress released on the Abercrombie website, it sold out within minutes. Upon ordering and receiving it, I could see why. I tried it on and loved it even more than I saw in the picture. I've been on the hunt for a black midi dress that I could easily style with flats, sandals, or heels and wear to the office or on a date night, and this checks off all those boxes.
The quality of this dress is very impressive. And, what's even better, is the impressive price point. At $110, this dress is not only a great price for the quality but a dress I will keep in my wardrobe and wear through multiple seasons.
The Midi Skirt Staples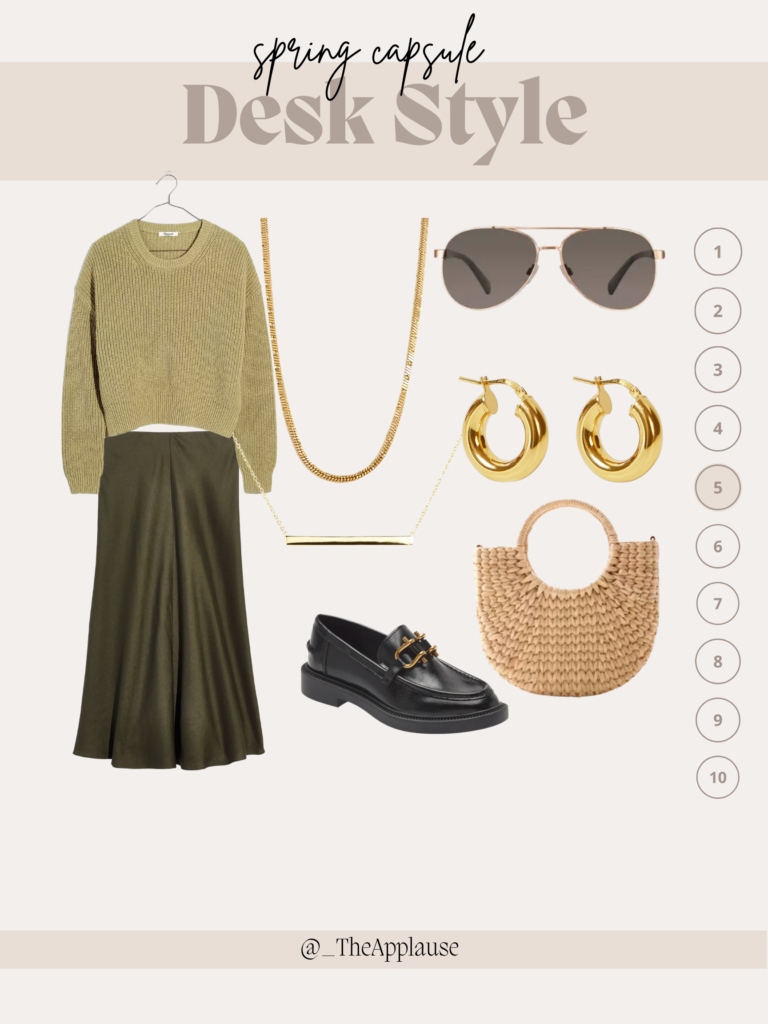 Every wardrobe needs at least one midi skirt. As soon as I tried this beautiful, deep-olive green skirt from Madewell, I was soon glad I ordered it. The color and cut are both sophisticated, which means the skirt can be worn to the office, brunch, or an evening dinner date. To wear it to the office, style it with some oxfords, then to go straight from your desk to dinner, add a black heel or heeled bootie and you'll be set to go.
This soft, chartreuse green, or what Madewell calls Pale Lichen, is my second pullover sweater of the three colors available for this sweater. The first I ordered is the Pressed Grape, which is a cross between magenta and purple. As soon as I wore the Pressed Grape sweater, I knew I wanted to own it in another color. The colors available and the light-knit fabric makes it perfect for wearing as a layer in winter, transitioning into spring, and wearing it on its own, as I have in the style guide.
I love a monochromatic look, so styling this with a skirt is the perfect fit for an office style that can also be worn out to dinner or brunch with friends on the weekend.
The Denim and Oh-so Soft Top Staples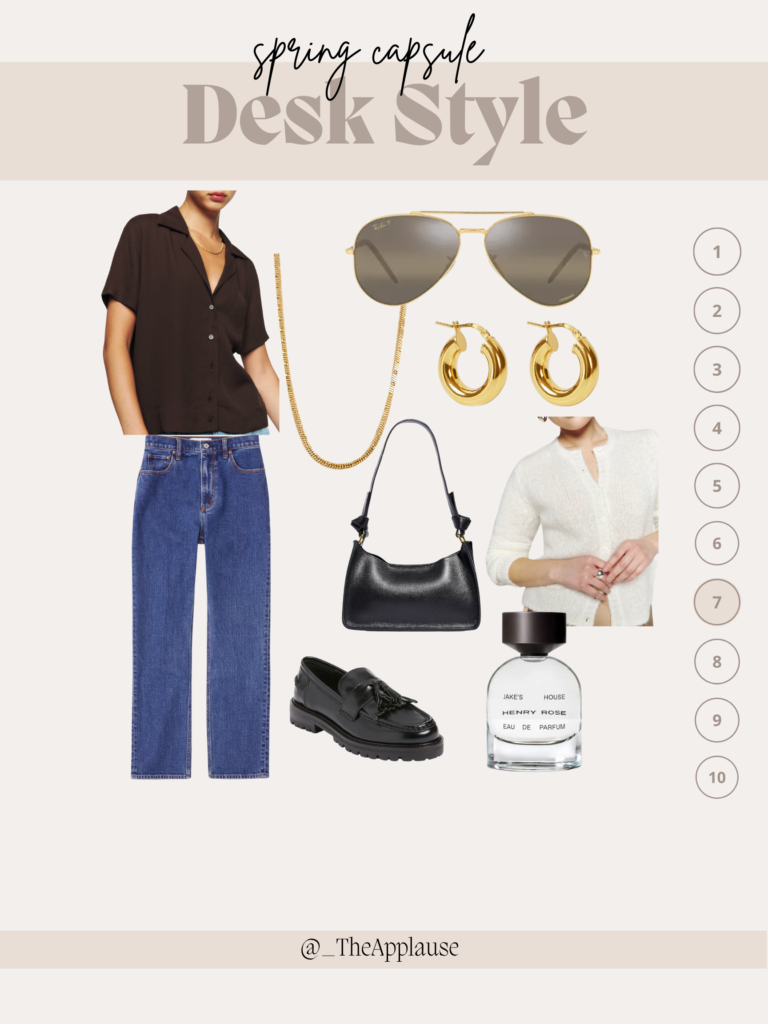 There is something effortlessly chic with a hint of flirty about a collared top, and this Cuba top by Reformation delivers superior quality with its soft fabric. I bought the Cuba top when it was available in a mixed print and loved it so much that I had to share the style with you.
What I love most about this top is its versatility and ability to transcend across seasons. Especially when going from Spring to Summer, this top will style beautifully and seamlessly with jeans in the Spring season and with your favorite denim shorts in summer.
The loafer is a style that has entered and exited my wardrobe, and with the Steve Madden Lug Loafer, I'm so glad to say, it's here to stay. I bought both when I saw the two Steve Madden oxford loafer styles.
The Lug Loafer, which I feature in the denim style guide, is a perfect black loafer style. I love the touch at the front of the show with the tassels; that makes it perfect for wearing them to the office. The other, the Kalon Loafer, is a slightly elevated style with a touch of brass. Both shoes are beautiful and are made with excellent quality materials. In fact, the quality exceeds the price point. I'd be easily fooled at just under one hundred dollars if someone told me they paid at least a few hundred dollars. That's how good they are!
Shop the Post